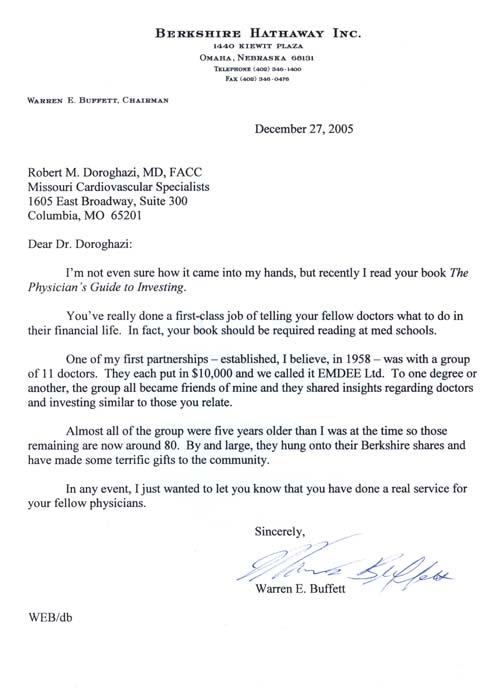 Mr. Buffett has been kind enough to allow me to use his comments about my book publicly. However, this should not be considered an endorsement of any of my other work.
---
"There just appeared a superb book by cardiologist Robert M. Doroghazi entitled The Physician's Guide to Investing: A Practical Approach to Building Wealth, and I strongly recommend it to anyone interested in preserving and growing a dollar bill… I highly recommend this book! Bob Doroghazi is a wise man who will retire from practice at age 54".(1)
William Clifford Roberts, M.D.
Editor in Chief The American Journal of Cardiology
"Dr. Doroghazi is a credentialed physician, a respected cardiologist, and a gifted writer addressing a crucial issue on the finances of physicians…This book should be on the same shelf with Gray's Anatomy, Robbins and Cotran's Pathological Basis of Disease ,and Goodman & Gilman's The Pharmacologic Basis of Therapeutics".(3)
Edward T. Creagan, M.D.
It is a "beautifully written book".
Harry M. Markowitz
Nobel Prize in Economics, 1990
The American Journal of Cardiology. 96:1750-1752, December 15, 2005 www.AJConline.org
Mayo Clinic Proceedings. 2006:81:706 www.mayoclinicproceedings.com